How Vought strike back in the 70's


In 1974, Chance-Vought was in deep trouble. The firm had no replacement for its A7 Corsair II and worst, this was an attack plane. They needed to regain on the naval fighter market. At the time, when the entire Essex class carrier was sold to foreign countries, US had no lightweight mach2 naval fighters. As a consequence, Dassault ruled the market with its Cyclone fighter, to be soon replaced by the brand new F1EM. The US Governement ask vought to end this situation. Vought made three fighters, starting from old designs

- F-7A Corsair III.
This was a light, cheap fighter version of the A7. Vought started from the supersonic version of the Corsair II and add Tiger II stuff to have a lightweight, naval fighter. This could fly to mach1.4 with 6 AIM-9P underwings, and the APQ-159 radar on the nose.

- F-8A Crusader IV
This was the good old Crusader but much ehanced : it had AWG-10 radar (borrowed to F4K) Sparrow missiles and TF-41 turbofan engine. An alternate version had the J79. This was truly a multirole fighter, with GBU-10 LGB. The FBW system test on a Crusader from may 1972 was retained.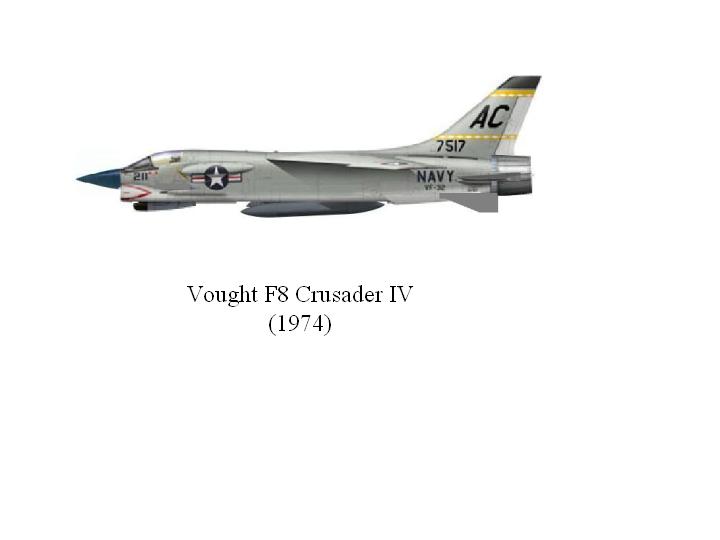 - F-13A Pirate
The mach3 capable F9U from the end of the 50's was upgraded with TF-30 or F-100 engines, Sparrow missiles and APG-65 radar. It was a very powerful interceptor, but still able to operate from Essex carriers.

A full size mockup of the three fighters was made, but only one was retained : the F8 Crusader IV. It was now proposed with four engines: J79,TF-30, TF-41 and F-100. The prototype flew on 14th June, 1976 with a TF-41 engine and proove a very good aircraft. Vought proposed the Pirate and Crusader IV to the USN but the winner was the F-18 Hornet. The US Governement bought 20 Crusader IV to use it as agressors in Nellis. This was also a mean to push the program ahead. The Crusader IV could fly at mach2.3, carrying three sparrows and 4 sidewinders, and two drop tanks underwing. Two M61-A1 vulcan guns were housing below the cokpit. The VI wing was deleted, and the aft fuselage shortened. The big improvement was the FBW system. As it had been tested on a modified Crusader, Vought exploited this fact, and FBW become standard on Crusader IV.
With its Sparrows, FBW, M-61 guns and TF-41 engine, the Crusader IV was a fantastic fighter. The fight with the F1EM was tremendous, and this was name "the deal of the century".

Along the years, Essex carriers buyers were :
- Canada, in 1965 "Vancouver"
- Netherlands, in 1969, to replace their old "Karel Doorman" and Hawker Seahawks. The ship was dubbed "Amsterdam".
- Italy in 1970 ("Leornado Da Vinci")
- Brazil in 1973, to replace the ageing Minas Gerais. ("Rio de Janeiro")
- Japan in 1974 ("Takahata")
- Greece in 1975, after the Cyprus crisis ("Andreou Papadopoulous")
- South Korea ("Incheon")
- Iran bought no less than two carriers in 1973 ("Pavlhavi" "Teheran")
- Argentina in 1973 ("Eva Peron")
- Chile in 1975 ("O'Higgins")
- Spain in 1977 ("Cervantes")
- Israel in 1981 ("Weizman")
- Saudi Arabia ("Ryiad") in 1983.
- Germany in 1985 ("Goethe").
These ships were all the modified Essex (according to the SBC-125 program which means with angled deck).
Eight others, unmodified Essex carriers (with straight deck) were waiting their demise, but the market was not close: suddenly, others countries wanted their Essex carrier!Alas, in this case, a SBC-125 was needed. The US really wanted to get ride off their Essex, and as a consequence, made the modification for cheap. So, 9 others Essex were sold :
- Thailand in 1974 "Pukhet"
- Malaisia in 1977 "Sepang"
- Philippins in 1978 "Manille"
- In 1982 Taiwan bought two Essex to patrol formose straight "Tchang Kai Tcheck" "Formose"
- New Zealand " Auckland" (this was sold by Australia).
- Peru "Bolivar" in 1983 (after the Falkland war)
- Sweden "Stockholm"
- Denmark "Copenhague"
The USA also sold their 3 "midways" starting in 1990.

A lot of attack and antiship aircrafts were able (Harrier, SeaJaguar for great Britain; Etendard IVNG; A7 Corsair III, A4 Skyhawk and A10N for the USA).
For the interceptors, it was less difficult : Crusader IV against F1EM.
Many countries choose Skyhawks; it was clearly the best naval attack plane. Harriers were expensives, SeaJaguar was underpowered, Etendard IVNG was old, Corsair a bit heavy and A10N too specialised.
Twenty four countries bought Essex carriers, and as a consequence had to make their air group. 15 of them elected the Skyhawk, 5 the Harrier, 3 the A10N, one the EtendardIVNG (dubbed Super Etendard) : it was Argentina.
For the interceptors, the result was 12/12 between the F1EM and Crusaders IV.
But Great Britain also bought Crusader IV for its CVA-01, whereas in France despite his long love story with Vought the Aeronavale bought F1EM.
As a consequence, the Falkland opposed Crusader IV to F1EM. And this was tremendous…